Prefacing Barça
We traveled to Barcelona via train from the station in San Sebastian, we left at 16:10 and were scheduled to arrive at 22:09. As far as I recall, there were no problems with the train, the ride was long, but it was much better than a bus as you have the freedom to move around if needed and much more spacious. Funny that I used some of the time to catch up on blog posts and yet they are just being posted now! Writing can be exhausting.
We took a cab to the room we rented which was in a phenomenal part of town, blocks from La Sagrada Familia, the metro rail and great places to eat. However, we were rather concerned because upon approaching the flat, we could smell cannabis fumes and the stench grew stronger with every step we took. When the apartment door opened, the wave pierced through the doorway like a sonic boom, freed from its constraints to diffuse and permeate every corner of the building and redefining the concept of a high-rise. The hosts were interesting and the cleanliness of the apartment was questionable, but that was all overlooked by the weed. Walking around in socks, we collected copious amounts of the plant on the soles of our feet. Had we stepped out into the city, i believe we could have been arrested for possession with intent to distribute. We did laundry the next morning, hung our clothes out to dry and were greeted by three 5 foot tall plants. In Spain it is legal to grew and possess for personal use, but this was a bit much. The final straw was when our host told us that her family was coming in from Venezuela that weekend. A two bedroom one bath flat occupied by us, our hosts and extended family! No way, we lied, said we were going back to San Sebastian and booked another airbnb in Barça for the remainder of our trip. We never felt like we were in eminent danger, and we are by no means putting Venezuelans in a box, hot or not, this was just not the experience we wanted. Plus there was more than enough to go around yet no peace offering. We made the most of the few days we were there.
Good Eats:
Maybe it was sleeping in residual air, I am not really sure how all of that works, but we woke up with some serious hunger and longing for an american style breakfast. Jamon was not going to cut it, we looked online for a place and found Milk Bar & Bistro. I ordered the American Pancakes with Bacon. The two pancakes were delivered in a sea of maple syrup and topped with a few delicious strips of smokey bacon. I'm glad I ordered a side of eggs, as the dish was a little small for my appetite. Bekah went with the Salmon Eggs Benedict, two amazingly poached eggs sitting on salmon and ciabatta blanketed with a delicate hollandaise sauce.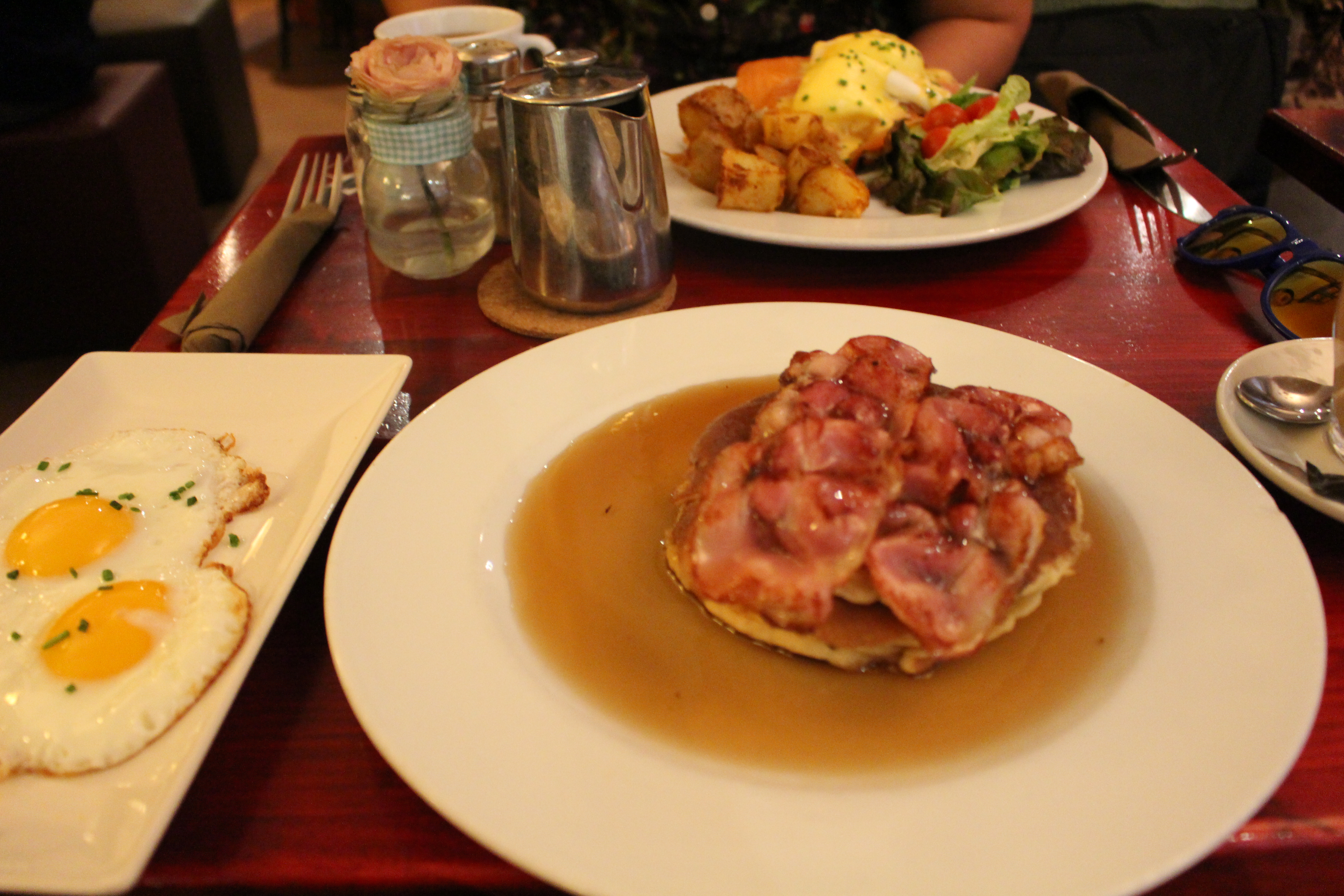 Content with our meal, we set off to explore this wonderful city. It is full of rich architecture and history that is fully appreciated and embedded in a modern society. Every intersection brings you to a new alleyway where a hidden treasure is waiting to be discovered.  We stumbled upon La Catedral de Barcelona and it was a beauty.
Close to were we were staying was a nice pedestrian/biking trail in-between Av. Diagonal near Plaça de la Hispanitat. After our daily feasts in San Sebastian, we had some major running to do. From where the path started, it was not long enough to run a 5k, but easy enough to track back and complete the run. On the path was an area of concrete ping pong tables and further down was a play area for kids. We got a couple of runs in before our departure.
Now back to food, we looked up a wonderful place to get a drink and some amazing appetizers, Granja Petitbo. It fills up during dinner, but it was a great place to work during the day. It was here where we did our research for Rome and Florence and also where a few paragraphs were banged out for this blog. Their nachos were lacking, their burgers supreme, the zumos were refreshing, and beer and wine was reasonably priced.
If you need a break form Estrella and riojas/tintos, Garage Beer Company is the perfect place. Their set up is like a traditional Brew Pub you would find right here in the States. It was tears of joy as I relished the moment an IPA hit my lips, then pure indulgence as I babysat an imperial stout. They must have had at minimum 30 international taps and quite a number of bombers in a drink case. Had we not had been stuffed be a wonderful dinner at Out of China, we would have tried what they had to offer, but with the amount of food we ate, I am surprised we could even finish a second beer.
Beer was not all we were missing 5 months out, what was really pulling on our heart was Mexican food. Hidden in the shadows of La Sagrada Familia on Passatge de Font sat La Taqueria. This was the closest to tacos we were going to get, so when we were told it was an hour wait, we said bring it! To pass time we went to their shop across the street Abarrotes Doña Cuca.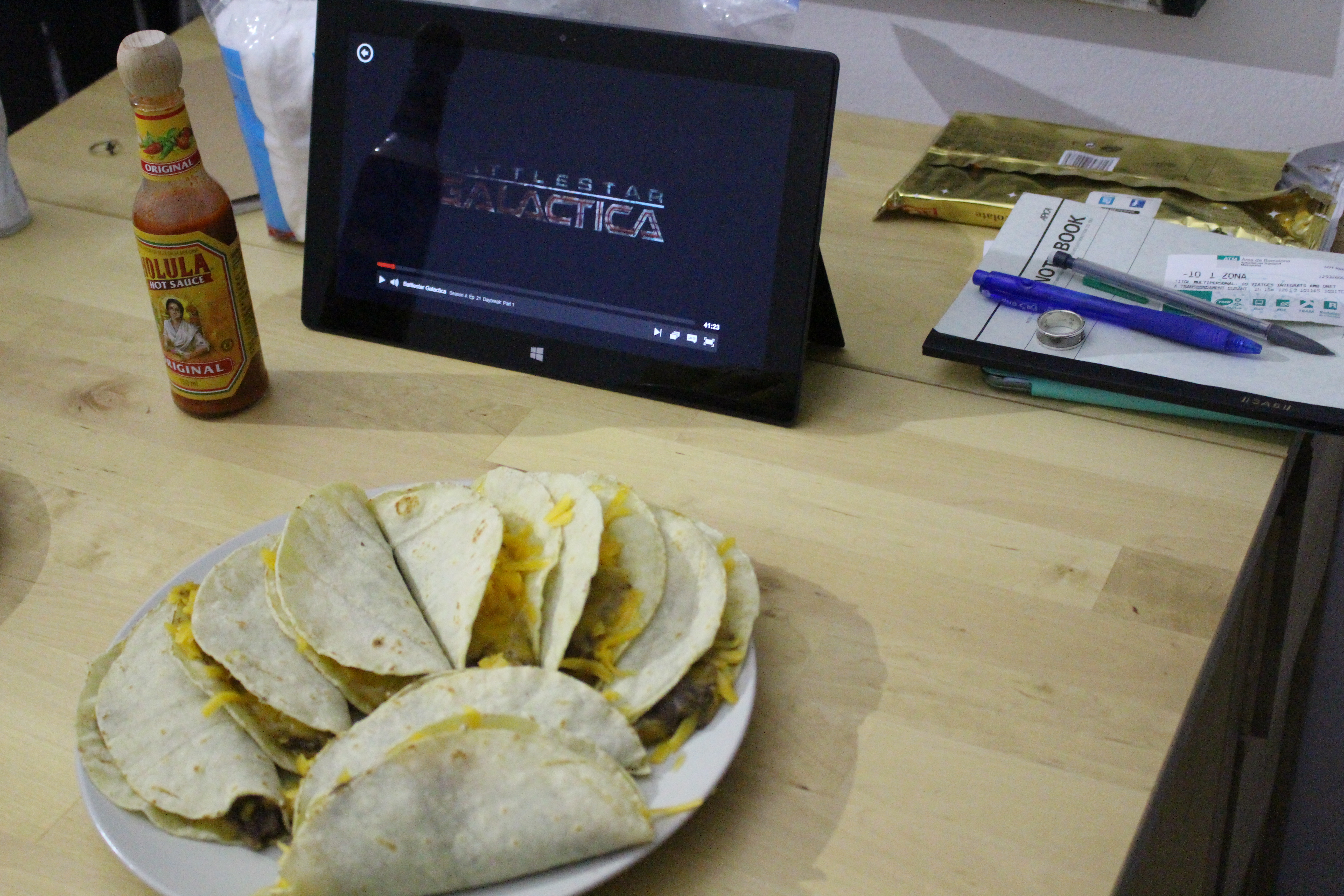 It was as if we were transported back home surrounded by all the brands we love Valentina, La Costeña, Jarritos, Sopa Maruchan, and Takis we wanted to break down right then and there. We knew wait was waiting for us across the street was going to be magical. We loaded up on some essentials for a bean and cheese taco fest later that week and before we knew it our table was ready.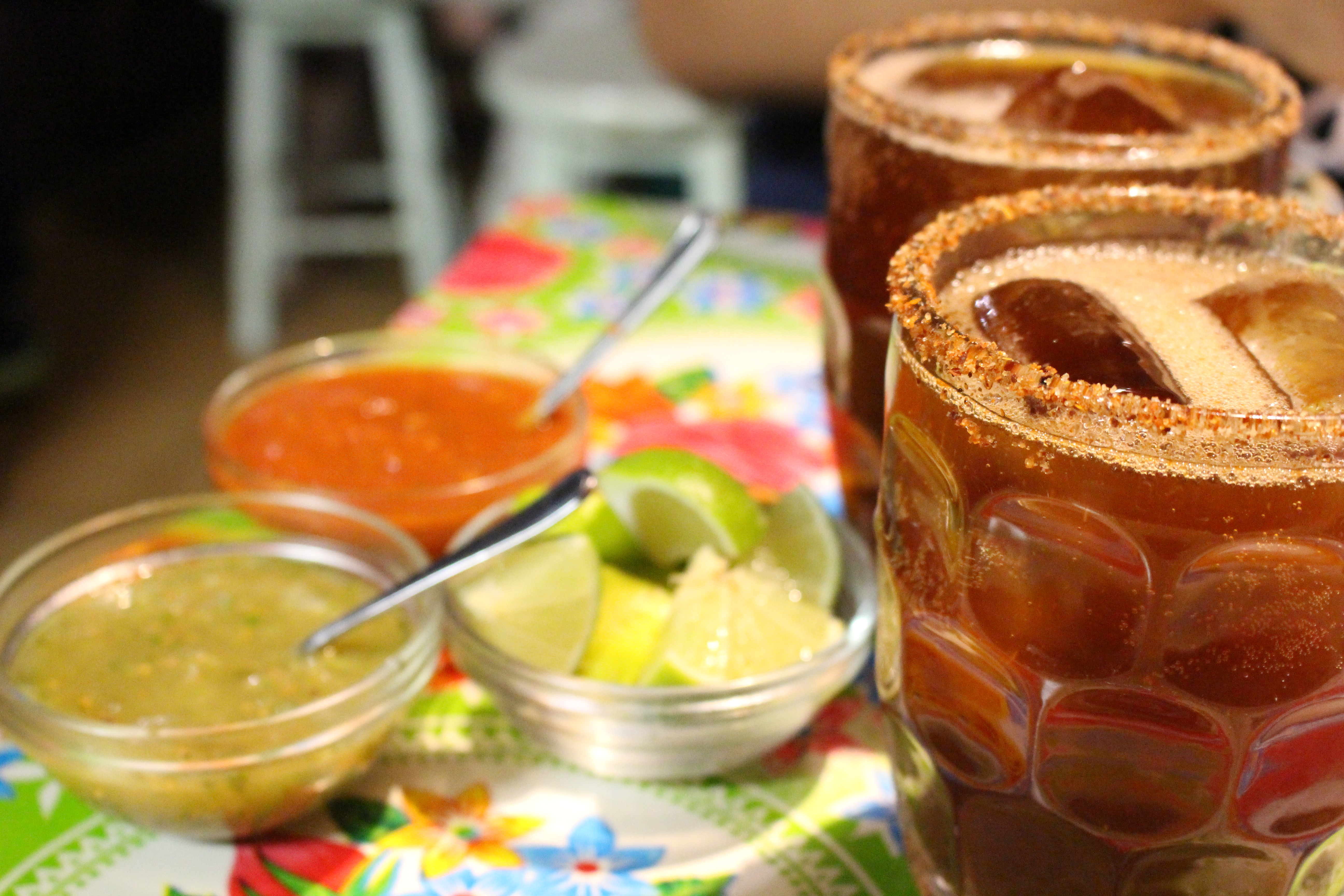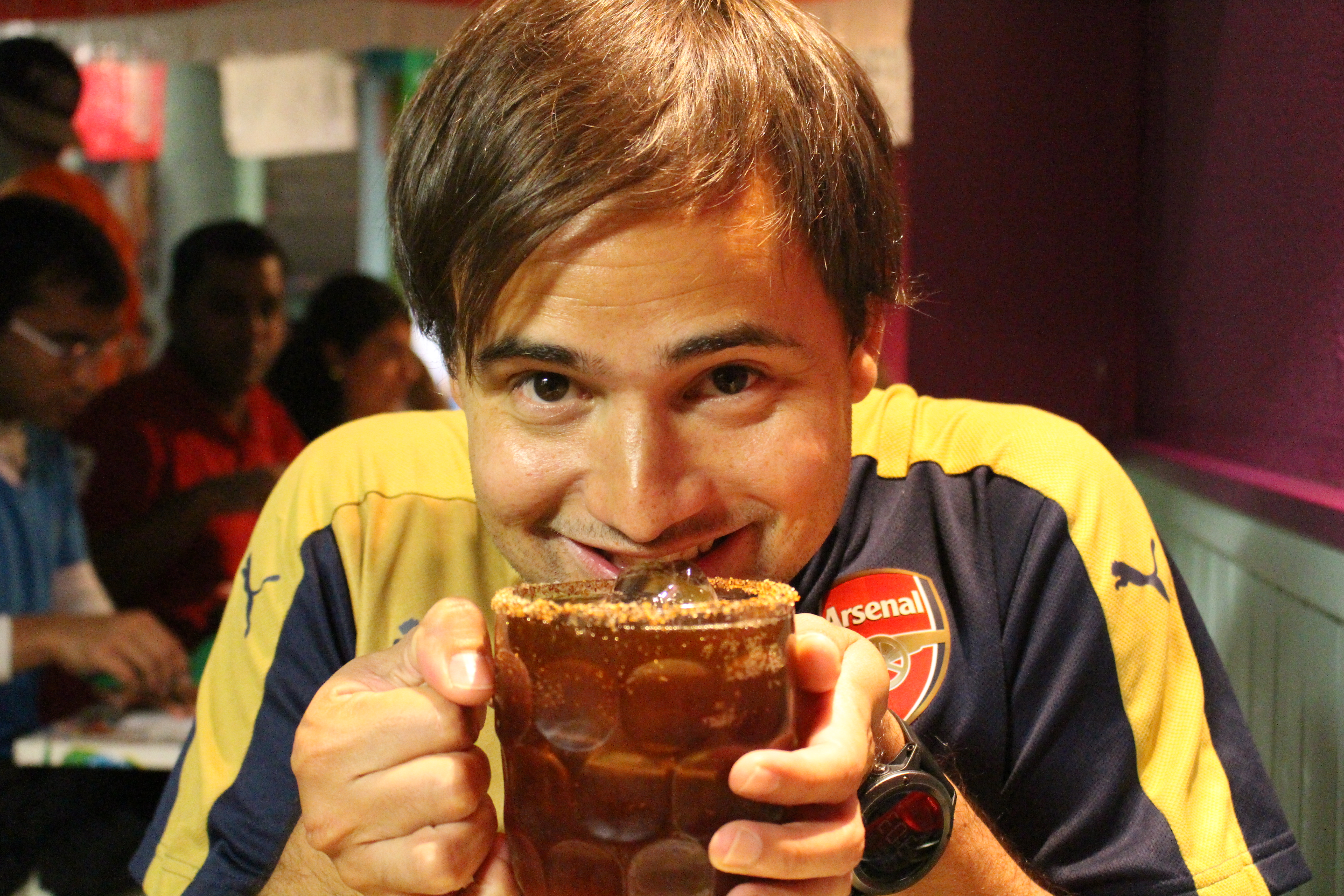 We started with micheladas and queso flameado, tortilla chips, and spicy salsa. We were in heaven, how was anything going to top that? Then the tacos arrived. So close to the basilica, this had to be a sacred holy site.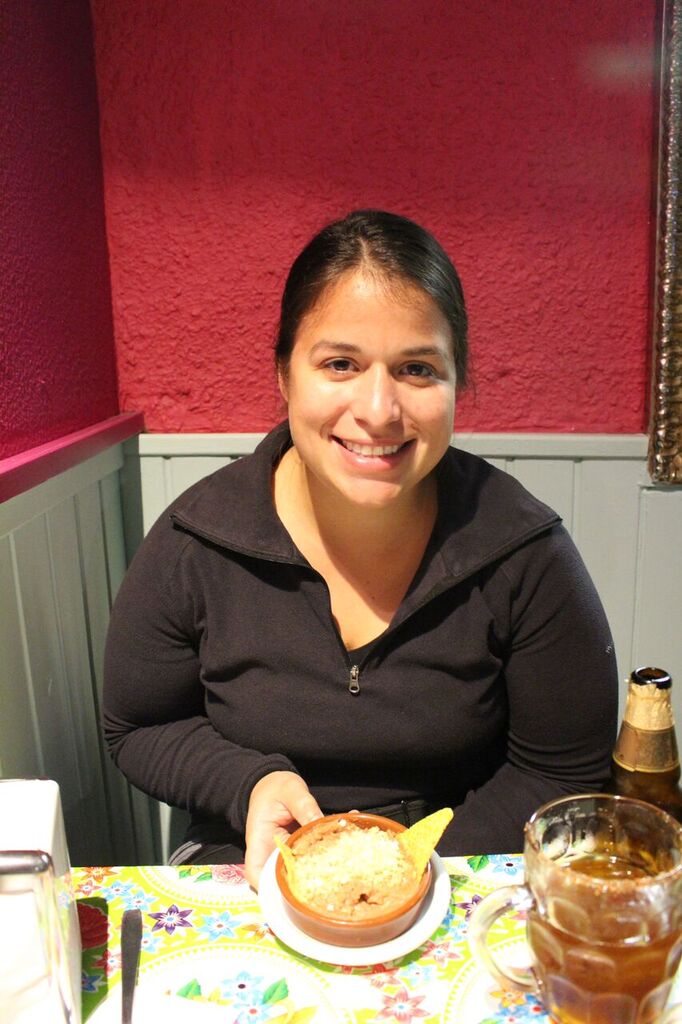 Close to La Sagrada was also a delightful seafood restaurant, La Paradeta. You walk in and come up to iced bins of the freshest seafood. You make your selection, tell them how you would like it cooked and take a seat with a mug of beer. It was as fresh as fried fish can be, however, the salad was a no, for some reason the corn really stood out as an ingredient that we did not agree with.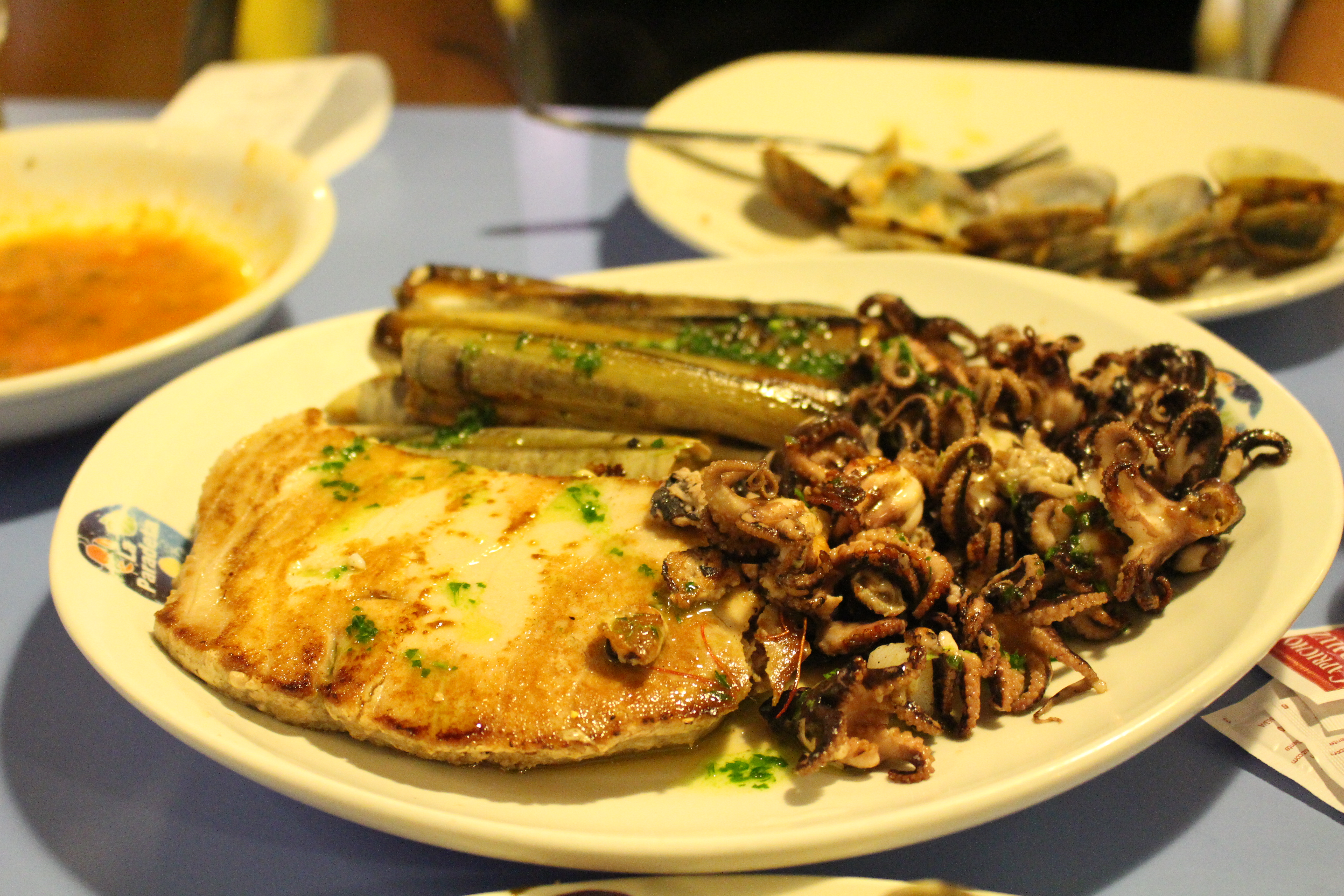 Our last night in Spain we threw a giant feast of our favorite foods from Cataluña, which turned out to be the region we were most familiar with when it came to cuisine in Spain. We first stopped at the butcher shop, Escort Oliver on Crue Coberta to pick up some choice cuts of jamon iberico, we must have picked out three different selections, all of them divine. Then we headed over to Casa Ametller to purchase a couple bottles of wine and an olive tapenade and crossed the street to Abacus Cooperative to get some fresh cheese and olives. The feast was brilliant and the perfect way to pay tribute to nearly two weeks in Barça.