We'll admit it, the timing and route of our trip was based on making it to Munich for Oktoberfest. Our now 10 year relationship started in our early 20's and we have since grown to have a deep appreciation for all things beer. Oh and day drinking. It's always fun. Although we now prefer the more robust flavors and higher alcohol content of a crisp IPA (her) or bourbon aged, pecan porters (him), they are not recommended in liters. Months on the road of pilsners and other light beers had our palates ready. We were also totally prepared for our share of brats and schnitzel. What we got was a once in a lifetime experience of colors, crowds, and some excellent new drinking songs.
In order to avoid extreme crowds, we opted for weekday visits to the grounds. Booking accommodations in advance is highly recommended and be ready to pay peak prices. We booked a nice Airbnb from the US in May for September 21st (our first trip purchase!). It paid off, right on the edge of downtown that was a quick metro ride away but a nice restful neighborhood.
As soon as you head out on the metro you will feel the energy and see the locals and tourists dressed in their Bavarian outfits ready to go. If this was the end of our trip or a traditional vacation, we would have given in to the minimum $60 investment to look the part, but all it takes is one minute imagining the weight of our 40L packs on a travel day to pass. We heard conflicting stories on this topic and can say that we saw many locals in addition to tourists dressed up and I could easily see it adding to the fun.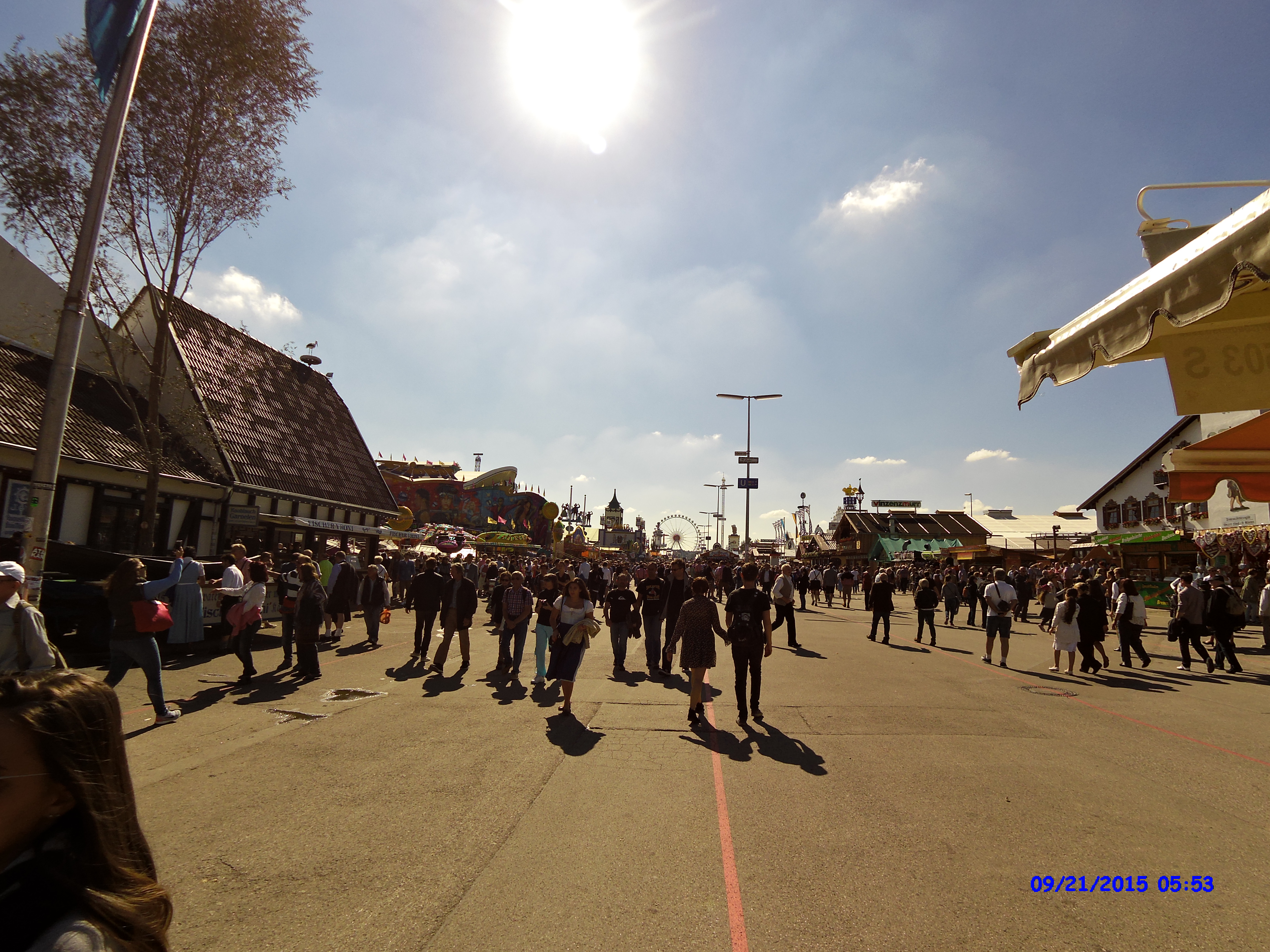 We didn't bring our Canon to the grounds and found it helps us enjoy the atmosphere more. Our Garmin VIRB worked just fine for what we needed and makes it so much easier to wander the large crowds without worrying about a large and expensive camera. The grounds are very chaotic but so colorful. Between each tent are rows of vendors selling the traditional heart cookies with hundreds of different sayings, steins, food and even shots for those that do not like beer or their liver. The whole place is huge and quickly gets disorienting with the help of the drinking but it is safe and not too crowded during the week.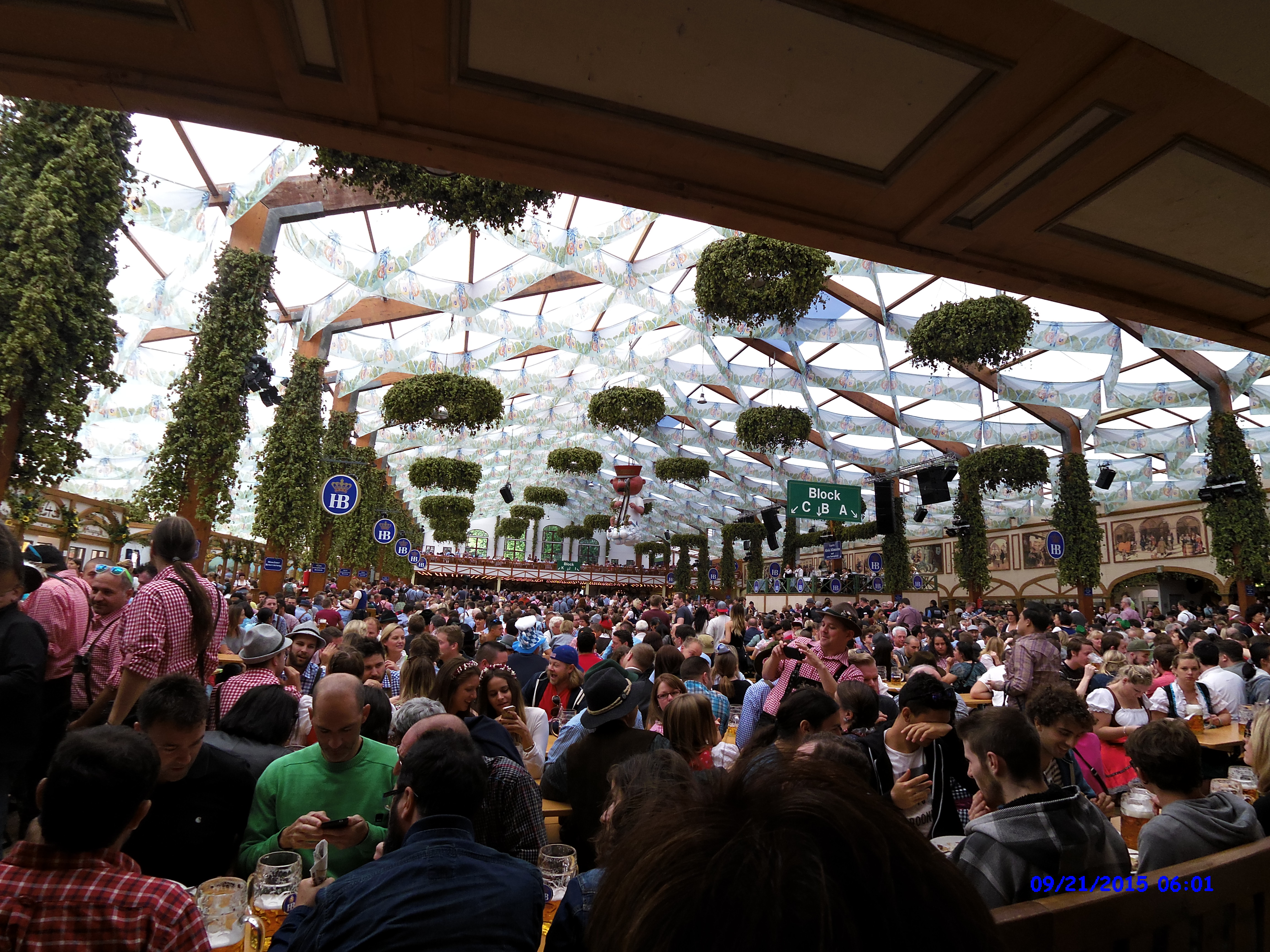 Even on a Monday the tents are packed pretty early with large groups ready to spend the full day singing and drinking. We wandered through a few to get a feel and found ourselves at the Hacker-Pschorr tent around 1pm. It wasn't as crowded at first and had a really fun band. As more people arrived dancing on tables began and we quickly learned the basis of "Ein Prosit". Our entertainment for the afternoon included some new friends from Austria who had come every year for 5 years, swearing this was their last. I highly doubted it by the end.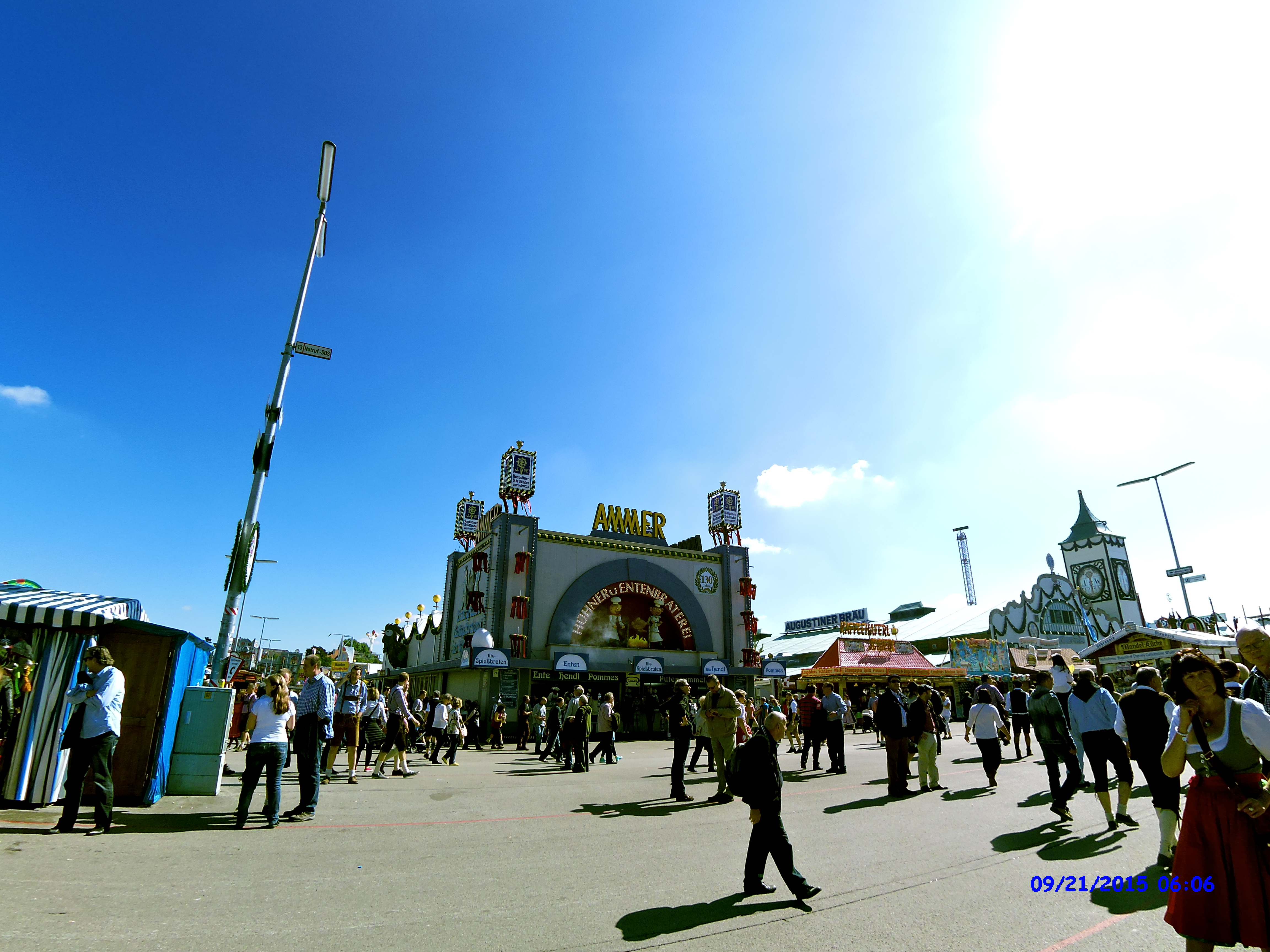 It only takes 2L on a hot day to get to be a little too much. Maybe it is the fact that giant pretzels are not as absorbent as we wish, or that 2L is a lot. I'll blame the pretzel. Either way, more quickly than I wanted or anticipated, Tony was guiding me through the grounds on a hunt for a spicy brat (delicious) and a nap. Included are a few choice pics I took that represent my early retirement from Oktoberfest day 1 pretty well.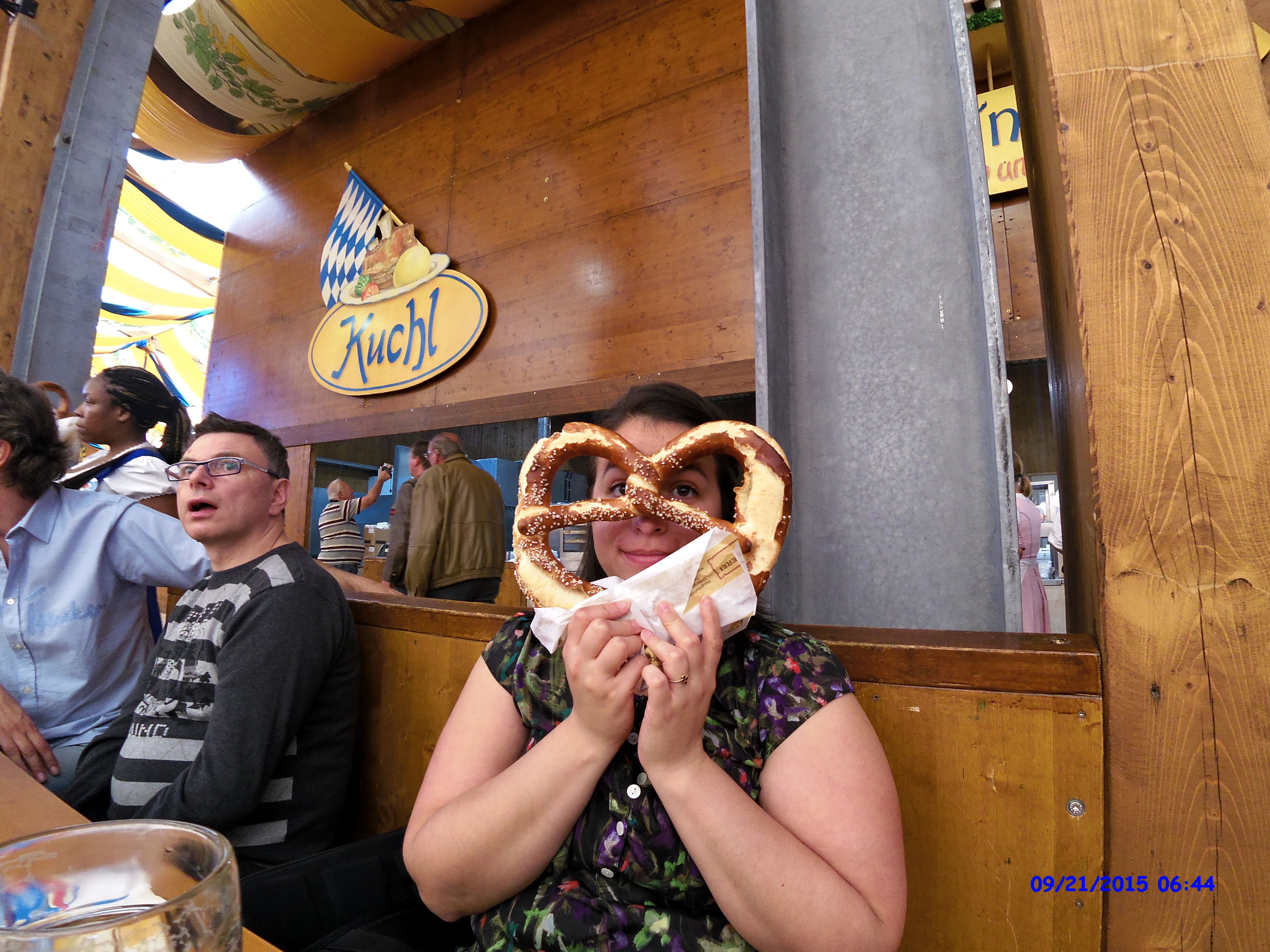 Day 2 of Oktoberfest was intended to be more observational than anything. We arrived later in the afternoon and quickly got the sober view of what extreme day drinking can do to many, many people. With no room to judge, we only recommend making sure you have friends to help you out and please go home vs getting arrested (watched one) or passing out on the street (especially if you are like 7 feet tall which is a danger to you and others).
Naturally a liter of beer each helped us back into the spirit. We didn't stay in the big tents long, opting to try some of the great food at the booths. Our favorites were the freshly fried potato chips with some seasoning and sour cream and those spicy brats. We also enjoyed a couple beirgartens that serve .5L drafts of heifeweisen and other more interesting beers. Standing room only but great people watching and views of the carnival rides.
Would we do it again? Probably not without a big group. The drinks are so expensive compared to everywhere else in Germany and even Munich and the crowds can be very tiring. This will happily be a once in a lifetime experience. We will stick to our hometown celebrations and try not to annoy everyone with comparisons to the "real thing"